SVA Fin System
The shipping world was extremely influenced by the so called oil crisis at the beginning of the 1980th. In that time all over the world were developed new ideas for reducing the oil consumption of ships.
One of these ideas was the so called SVA Fin System, a hydrodynamic Energy-Saving Device. The Inventor was Dr Hans-Erhard Peters; I was involved in the development and optimisation only.
The design goal of the SVA Fin System is the reduction of the
Rotational losses in the slipstream via the fin
Partially reduction of losses in the ships wake via special fin design
The realistic possible power reduction lies between 2 and 4 %.
The SVA Fin System has been realised in full-scale fife times alltogether, three times at container ships (corresponding patent No 1), and at two inland vessels (corresponding patent No 2).
The proved power reduction in full-scale was about 3 % for the container ships; and about 9 % for the inland vessels.
For more information see the publication No10.
SVA Fin-System at Container Ship SATURN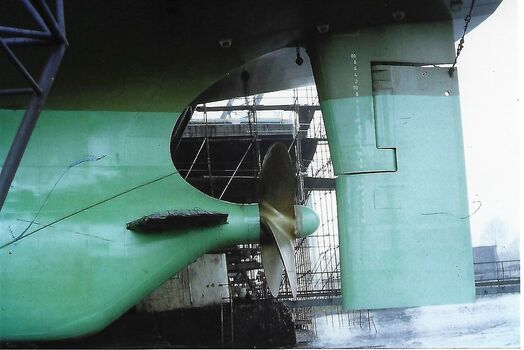 Sketch from the patent, 1986